The Most Popular Tennis Bracelet Styles
diamond tennis bracelets, lab grown tennis bracelet, tennis bracelet, tennis bracelets
7/5/2022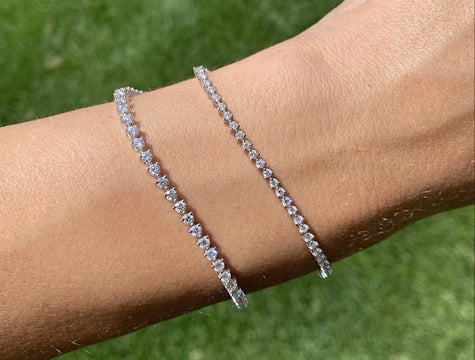 Iconic and fashion-forward, tennis bracelets can accessorize any outfit, from formal ball gowns to casual summer ensembles. But which design is right for you? Here are some of the trendiest tennis bracelet styles for modern fashionistas.
Prong Set Tennis Bracelet
One of the most popular styles for tennis bracelets, the prong setting tennis bracelet beautifully balances brilliance and security. With this design, each diamond gemstone is held in place by 2 to 4 prongs, with each one carefully positioned to hold the stone safely in place.

Tennis bracelets with three prongs have a near-triangular appearance, while four prongs provide a more symmetrical, rounded appearance. There are also two-pronged tennis bracelets that provide a distinctly intriguing look.

A prong setting allows each diamond to interact with available light, so it sparkles from every angle with minimal interruption from the surrounding metal. For added protection, some designs incorporate double claw prongs, which ensure that the gemstones are securely held in place.
Channel Set Diamond Tennis Bracelet
In a channel set tennis bracelet, the diamonds are placed within a groove or channel, where two rows of precious metal hold the gemstones in place on both sides. With this design, each diamond is held in place close together, giving the appearance of one continuous loop of scintillating stones.

Because this setting provides more light interaction than bezel settings, it strikes an excellent balance between beauty and security. Channel settings also provide a sleek, structured look that makes them quite popular among countless women.
Three-Row Tennis Bracelets
As the name suggests, these tennis bracelets consist of three glittering rows of diamonds. Almost like several bracelets in one, three-row tennis bracelets radiate eye-catching fire, making them quite popular among women who want an accessory that makes a statement of its own.

Especially striking, these dazzling pieces are perfect for special occasions when you want to turn heads. Because they are more of a statement piece than an everyday accessory, three-row tennis bracelets aren't appropriate for every setting. They do, however, make elegant additions to formal attire when you aren't afraid to capture attention.
Uniquely Artful Designs
When most people think about tennis bracelets, they imagine a traditional piece featuring an endless circle of diamonds. These days, however, many people are gravitating toward artfully designed pieces that incorporate metal in beautifully compelling ways.
Take, for instance, the Orion Diamond Tennis Bracelet and Lines Diamond Tennis Bracelet from John Atencio. Each blends clean, contemporary lines with John's graceful artistry to create uniquely intriguing pieces that stand out for all the right reasons. Alluring and distinctive, these tennis bracelets are perfect for women who want to elevate their ensembles while showing off their one-of-a-kind style.
Lab-Grown Tennis Bracelets
Sustainable and eco-friendly, lab-grown diamond tennis bracelets are having a moment as people seek to limit their carbon footprints. Shimmering with fire, these man-made pieces share many similarities with bracelets made from natural diamonds mined from the earth. Both natural and lab-grown diamond tennis bracelets are judged by the 'Four Cs' (cut, color, clarity, and carat weight), which have long been used to determine the value and beauty of jewelry-grade diamonds.

To the naked eye, lab-grown diamond bracelets are absolutely indistinguishable from pieces featuring natural diamonds. The only difference is that lab-grown diamonds include microscopic inscriptions. Without special equipment, however, no one can tell whether a diamond tennis bracelet includes lab-grown diamonds or naturally mined gemstones.

These days, a growing number of people are embracing lab diamond tennis bracelets because they appreciate the way they are sourced and enjoy the lower price tag.
The John Atencio Difference
Endlessly versatile, the iconic diamond tennis bracelet comes in a variety of styles that work with every look and virtually any budget. Whether you are treating yourself or surprising that special someone, you can't go wrong with this timeless classic, especially when you shop at John Atencio.

Exquisitely crafted using premium-quality gemstones, John's diamond tennis bracelets come in a diversity of styles and carat weights. Explore our online collection or visit any convenient John Atencio location, where our knowledgeable consultants can help you find a striking bracelet to add an edge to your sharpest look and complement the jewelry you wear every day. Our courteous team can also help you find a breathtaking gift to show that special person just how much you care.