Top 5 Tennis Bracelets You Should Know About
diamond tennis bracelets, lab grown tennis bracelet, tennis bracelet
10/2/2023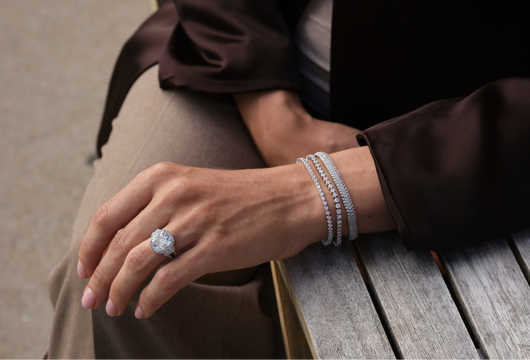 From classic elegance to contemporary chic, today's top tennis bracelets fuse timeless appeal with leading-edge concepts. Here are some of the most eye-catching, popular tennis bracelet designs, perfect for special occasions, along with a few helpful tips for choosing one that fits your distinctive preferences and style. Tennis bracelets are not just pieces of jewelry; they are a statement of fine jewelry elegance.
Finding the Best Tennis Bracelet
The best diamond tennis bracelets exemplify creative artistry and ageless glamor. But these days, there are so many tennis bracelet styles, that choosing just one can feel both exciting and overwhelming.
When selecting your ideal tennis bracelet, you'll want to consider metal type, gemstone quality, design aesthetic and comfort. This means choosing between precious metals like white, yellow or rose gold. It also means selecting natural or lab-grown diamonds graded for optimal cut, color and clarity.
The finest tennis bracelets feature distinctive yet timeless designs that accentuate the sparkle and scintillation of the gemstones for show-stopping elegance. For the ultimate in comfort, you'll also want secure clasps and appropriately sized links that conform to your wrist.
Popular Diamond Selection
For brilliant sparkle, a classic tennis bracelet should feature high-quality, premium diamonds you'll want to show off. For optimal fire and brilliance, look for bracelets with rows of diamonds in round brilliant or princess cut diamonds that total one to two carats. Ideal specifications include colorless to near colorless stones rated D to G on the color scale and clarity ratings from VVS1 to SI1. With proper care, these tennis bracelets will retain their dazzling radiance for generations, serving as timeless keepsakes.
Top designers such as John Atencio carefully hand select stones exhibiting excellent polish, symmetry and proportions according to exacting standards. This ensures maximum fire and brilliance, while also guaranteeing that every stone is ethically sourced.
At the same time, with their identical brilliance and ethical sourcing, lab-grown diamonds are a trending tennis bracelet option. Advancements in technology allow labs to grow gorgeous diamonds with the same optical qualities as mined gems. The best lab grown diamond tennis bracelets give you scintillating beauty without any worries about potential ethical concerns.
As for shape, round and princess cuts are the most popular options for tennis bracelets, thanks to their symmetrical facets that reflect light from all angles. The succession of round or square-shaped diamonds produces a clean, elegant bracelet contour that flatters the wrist. That said, today's innovative custom designs often include princess, emerald or other diamond cuts for unique tennis bracelets that reflect your personality and style.
Preferred Metal Choices
Modern tennis bracelets are crafted using white gold, yellow gold and rose gold, allowing you to find the perfect piece, whether you desire a contemporary vibe or timeless elegance. The choice of metal dramatically influences the overall look, enhancing the diamonds with a warm, romantic or modern gleam. Precious metals also provide superior hardness to securely hold diamonds in place while resisting scratches and corrosion, so your bracelet will stand the test of time.
White gold tennis bracelets complement diamonds with a crisp, sleek sheen, creating a clean, contemporary aesthetic. Meanwhile, yellow gold's warm glow is always in style, whatever the trends. For a feminine twist, rose gold's unique blush tones add soft, romantic allure. Regardless of color, choose 14k or higher for vibrant color and sparkle amplification.
Popular Setting Styles
With their minimalist elegance, prong settings are the overwhelmingly preferred choice for tennis bracelets. Tiny claws grip the diamonds securely while maximizing light refraction for sensational brilliance. Prongs lift diamonds up to make them really sparkle while allowing for thorough cleaning. This classic setting style provides ideal secureness matched with see-through simplicity, which elevates the appearance of your bracelet. 
For a seamless look, some opt for bezel settings on their tennis bracelets. Bezels surround diamonds in a rim of metal for a smooth, continuous bracelet contour. This protective enclosure comes at the cost of some sparkle, however. Channel settings can also produce a uniform bracelet outline, as metal channels house each diamond side-by-side. 
Most Popular Clasp Types
For a seamless look, the best tennis bracelets feature hidden clasps that blend into the design. Discreet push-button or box clasps preserve the elegant continuity of the bracelet while letting you securely fasten it around your wrist. Hidden clasps boost overall aesthetics for a contemporary sleekness, creating the illusion of an unbroken, seamless ring of diamonds.
While hidden clasps prioritize seamless beauty, safety clasps provide peace of mind by preventing accidental opening. Safety clasps function similarly to seatbelts, with a mechanism that must be released before the clasp can open. This added security makes sense for tennis bracelets worn daily. Though not as discreet, safety clasps give confidence your bracelet will stay clasped, whether you're working, dancing or playing a game of tennis.
Top 5 Tennis Bracelets From John Atenio:
Renowned for distinctive designs, jewelry designer, John Atencio offers tennis bracelets in a spectacular range of unique styles and carat weights. Collections like Orion and Lines incorporate John's signature artistry through creative use of metalwork and dazzling diamonds, while ensuring the careful matching of diamonds for brilliance, color and quality. With natural and lab-grown gems, John provides sublime tennis bracelets from understated and elegant to ornately opulent. These pieces of fine jewelry stand out in any collection, making them perfect complements to an engagement ring.
Some of his most popular pieces include:
1. ORION TENNIS BRACELET
An iconic John Atencio design, Orion showcases graceful artistry and clean, contemporary lines. Named after the famous constellation, Orion tennis bracelets and necklaces evoke a sense of celestial sparkle and symmetry.
2. LINES DIAMOND TENNIS BRACELET
Simple and highly structured, the Lines bracelet brings the brilliance of each finely curated channel-set diamond into undeniable focus, transfixing admirers.
3. MIRAGE TENNIS BRACELET
This iconic design captivates with clean lines, channel set diamonds and a pristine, high-polished finish, exemplifying John Atencio's artistic mastery. The Simply Devoted collection transforms precious metals and brilliant gemstones into contemporary jewelry that celebrates romantic devotion through John's intuitive, minimalist aesthetic.
4. PALOMA LINK BRACELET
Radiant with refined grace, the Paloma bracelet embodies John Atencio's signature minimalist aesthetic. Bezel-set diamonds shine like stars ensconced within gently contoured precious metal. Paloma, meaning "dove" in Spanish, evokes ideals of harmony, faith and unity. 
5. MONACO TENNIS BRACELET
The simplicity and beauty of diamonds come alive in the impeccably crafted and inspired collection of Monaco tennis bracelets, which include stunning one-row and three-row pieces. 
In addition to these five popular designs, John offers an assortment of other coveted tennis bracelets, including his baguette cluster, Everlast, Venture, Paris X/O, and more. 
With each piece, hand-selected diamonds (rated G-H color and SI1 clarity) dazzle the eye in 1 to 5 total carats. And every tennis bracelet upholds the highest caliber of quality, integrity and beauty through distinctive details, recycled precious metals, ethically sourced natural diamonds, and lab grown gemstones. Every John Atencio tennis bracelet comes with certification documents that authenticate the quality of the diamonds and gemstones. His pieces are also backed by a warranty that covers the piece for a full year from the purchase date. 
When you shop for a John Atencio tennis bracelet, you gain access to wearable works of art perfected by a jewelry artisan with decades of intuitive creativity. Browse online or visit any John Atencio location, where our consultants can help you find the perfect tennis bracelet to elevate your look and complement the jewelry you wear every day.