Stacked Wedding Ring Ideas from John Atencio
stacked rings, wedding rings
3/17/2022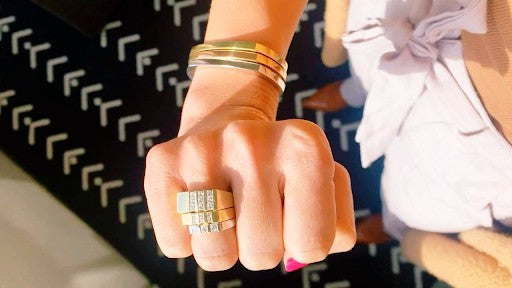 For as long as people have been wearing jewelry, stacking has been a popular trend. These days, the style has crossed over into the wedding ring industry, as more and more brides embrace a multi-layered look that provides distinctive beauty and enhanced versatility. Here are some inspired ideas to help you create a stunning combination of stacked wedding rings.
What is a Stacked Ring?
Traditionally, three rings have been associated with marriage: the engagement ring given at the time of a proposal; the wedding band given at the time of the ceremony; and the eternity ring given at a later, unspecified, time. These days, however, modern brides have embraced the idea of more rings to celebrate their unions.

Called stacked rings or stackable rings, these combinations include two, three or more bands placed in a group next to one another. The joint rings create an illusion of a bigger single ring that delights and dazzles the eye. Stacked rings also allow brides to reconfigure the look by switching the rings around, so they aren't limited to a single layout.

As stacked wedding rings grow in popularity, it's becoming common for women to stack their engagement rings and wedding rings as part of a matched pair. They will sometimes ask the jeweler to craft a wedding band that sits around the engagement ring, so it stacks seamlessly beside it like a stacked band.
Stacked Ring Tips
Wearing stackable wedding rings isn't especially complicated; once you've selected your rings, simply place one ring on top of the other in the desired configuration. That said, while it's good to find inspiration based on your individual taste, there are some ways to get the best possible look.

In general, it's best to wear your stacked wedding rings in a symmetrical way. Many people also recommend choosing some rings with diamonds and some without, although this isn't a hard and fast rule. You can get a nice, balanced look by pairing a delicate diamond ring with a thick solid band. You can also add intrigue by mixing a vertically oriented baguette eternity with one that's horizontally-oriented.

Above all else, it's best to get insight from an experienced jewelry consultant who has the expertise and creativity to show you how certain styles of rings blend best. The experts at John Atencio are happy to help you assemble a beautiful, harmonious wedding ring stack that's every bit you.
Stacked Ring Suggestions
There's no wrong way to stack your wedding rings. It all comes down to personal taste and individual style. Still, it helps to have some nice options that can inspire your creativity. With decades of experience and endless expertise, John Atencio has a gorgeous selection of stackable wedding rings. Among our favorites include:
Nearly encircled with scintillating diamonds, Delicia is a beautifully stackable wedding ring option. Born out of John's desire to creatively mark special occasions, this gorgeous design celebrates love, marriage and family in timeless yellow, blush rose, and pretty pale white gold.
Completely surrounded by striking white diamonds, the Cascade Diamond Ring adds brilliance to your stack. Radiating fire, each gorgeous diamond is placed amid geometric settings with hollowed borders that add an especially intriguing element to the design.
Beautifully compelling yet artfully subdued, the Orion Diamond Stack Ring captivates with a full circle of glittering diamonds. Between each stone, smooth lustrous gold adds balance, creating a harmonious union between precious metal and every breathtaking gem.
Other Stacked Ring Ideas
A striking stack doesn't just have to include diamond rings; it can also incorporate colorful gemstone designs. Take for instance John Atencio's Essence Gemstone Stack Ring with your choice of rich red rubies or sea-blue sapphires. Whichever you choose, you can add intrigue to your stack by blending diamonds and colored stones in an artful display of individuality.

And since each individual ring can also be used to commemorate an occasion, the entire stack can hold particular emotional significance. Whether it honors the birth of a child (sapphire for boy, ruby for girl), a special anniversary, or a birthday, gemstone rings are a great way to create meaningful stacks with endearing symbolism.

Similarly, you can create a uniquely stunning combo by mixing different-colored metals. Some brides enjoy sandwiched styles featuring different blends of icy white gold, classic yellow gold and romantic rose gold. Whatever your taste, whatever your look, stackable rings allow you to celebrate your joyful union in a style all your own.

Stacks can also be special ways to honor anniversaries. Born out of John Atencio's desire to creatively mark special milestones and occasions, each of his anniversary ring designs pay tribute to the celebration of love, marriage and family. Whether it's a whole set of stacked rings or a new single ring for an existing stack, John has an alluring assortment of stackable pieces to commemorate your years together.

At John Atencio, we use the very finest materials to craft unique statement pieces and stunning wearable art. Browse our online collection or make an appointment at one of our convenient locations, where our team can help you select a stunning stackable combination that celebrates your love story and elevates your style.