The 5 Hottest Trends in Diamonds
diamond jewelry trends, diamond shapes, diamond trends, pave
3/25/2021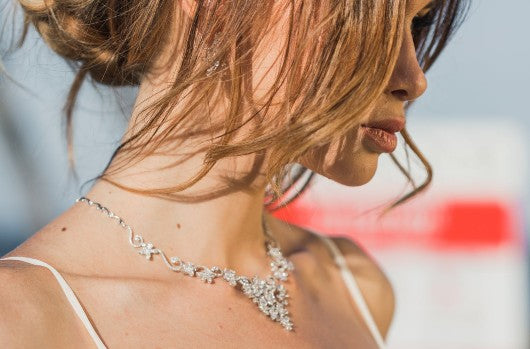 Diamonds have long been prized for their stunning fire and glamorous elegance. But these traditional gems have been anything but stagnant over the decades. From alternative colors to fancy shapes, modern diamonds can help show off your unique style in a number of different ways. Here are some of the diamond trends making headlines in 2021.
1. Salt and Pepper Diamonds
Faceted just like traditional white round brilliant diamonds, salt and pepper diamonds have become an increasingly popular choice for engagement rings. What makes them especially compelling is their mix of black and white inclusions that provide the stone with a silky gray and speckled appearance.

Diamond inclusions will typically appear as lines, white spots, black spots, cracks, clouds and sometimes fields of transparency. With these trendy gems, however, the inclusions look quite similar to spilled salt and pepper.

There are many different reasons for this particular diamond trend. For one, the gorgeous stones are much more affordable than traditional white diamonds. They are also especially intriguing. Looking closely, an admirer can easily get lost in the intricacies of the random inclusions and get the impression that they are looking into a tiny other world.
2. Hollywood Pink
In a town where everyone wants to be seen and discussed, engagement rings provide an enormous opportunity to make a statement. One of the latest diamond jewelry trends in Hollywood is the emergence of the romantic pink diamond as the gemstone of choice for engagement rings.

Forming under extremely high pressures and temperatures within the Earth's crust, colored diamonds are much rarer than colorless gems. This allows them to command a higher price while also commanding the attention of admirers.

From gilded ballrooms and fashion runways to movie premieres and magazines, you've likely seen these beautiful natural creations donning the fingers of countless celebrities. This trend has transcended beyond Hollywood into every corner of the country, as more and more women look to stand out with unique jewelry that sets them apart from the crowd.
3. Yellow Diamonds
Yellow diamonds are having their moment right now. It's quite common to see them worn proudly on the red carpet or splashed across the pages of glamorous fashion magazines. Also known as canary diamonds, these pretty gems are the world's most popular colored diamond.

Their trademark yellow hue comes from the nitrogen in their composition. Since these molecules absorb blue light, the gemstones give off an alluring yellow shade. Typically priced similarly to white diamonds, the radiant yellow stones are a great way to distinguish your engagement ring from the pack. They also look beautiful in other types of jewelry, especially when paired with glittering white diamonds.
4. Pavé Style Rings
Pavé style rings are also having a moment among women who really want to sparkle. With this trendy style, small diamonds are set in a line along the shank of the ring. Tiny beads or prongs hold the scintillating diamonds in place, creating an eye-catching look that's exceptionally beautiful. John Atencio's Essence Pavé Wedding Band in rose gold is a classic example of the style.

Trendy pavé styles include one or multiple rows of diamonds. These days, more and more brides are adding pavé bands to different styles of engagement rings. Since the pavé diamonds are quite delicate, it's best to take extra caution with these types of rings.
5. Fancy Shapes
While round-cut center stones remain the "go-to" style for engagement rings, more and more brides are coveting fancier shapes. Oval, pear, cushion and emerald cuts have all been seeing increased popularity, while shapes such as triangle and Asscher have also become more common. For something truly unique, a growing number of brides have even become interested in hexagonal- and lozenge-like cuts. Bear in mind, rare diamond shapes often require some prong customization to accommodate the stone.

Whether you're searching for a traditional classic or trendy style, John Atencio can guide you toward the perfect diamond for a uniquely beautiful jewelry piece. Visit a local John Atencio store where our Diamond Experts can show you how to select a quality diamond gemstone that provides optimal impact and value for your investment.

Our attentive staff always works to ensure that we meet each customer's unique needs in terms of size, cut, clarity and color, all while maintaining the strictest quality standards. Use our helpful diamond search and then make an appointment at one of our convenient locations.