Tips for Choosing (and Wearing) Matching Wedding Jewelry
bridal jewelry, matching jewelry, wedding jewelry
7/13/2022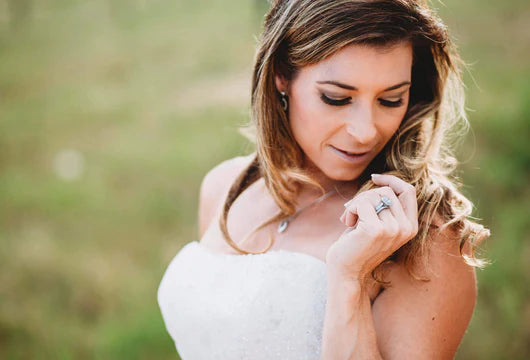 After your engagement, it's time to start planning your wedding day, a magical date that will arrive faster than you realize. In the beginning, it can seem like a never-ending to-do list filled with venue meetings, trying on dresses, and all the little steps toward planning your dream wedding. But even when you have all these ducks in a row, there's one more thing to consider.

Once you have your dress, it's important to start thinking about the jewelry that will also play a role in your beautiful day. How will you make everything work together to create a seamless, stunning look? There are many ways to accent your appearance with the right jewelry fit. There are also many ways to dress up your look to create a harmonious balance.

Whether you're styling for yourself or shopping for the bride, here are some tips for accenting and matching wedding jewelry for your walk down the aisle.
Tips for Accenting Your Wedding Day Jewelry
When planning your wedding day look, it's important to think about matching bridal jewelry to your dress, shoes, hair, makeup and accessories.
Hair
After you buy that perfect wedding dress and the right matching jewelry, you are likely to start thinking about what to do with your hair. Depending on the neckline of the dress and the neckline of the jewelry, you may want to consider wearing your hair up to highlight the beauty. Test out different hairstyles while wearing the necklace to see what makes it jump out as you walk down the aisle.
Makeup
When choosing your makeup color palette for your wedding, be sure to consider the gemstones in your jewelry pieces. Consider using an eyeshadow that matches certain gemstones to highlight them more. A subtle blush can also bring out the gold or silver in your jewelry. Play around with color choices while wearing your jewelry to see what looks the best.
Nails
Getting your nails done is always a fun part of the wedding day. You may have the nail salon pop a bottle of champagne for mimosas as you're surrounded by your maid of honor, bridesmaids, and possibly your mom. While many go for a subtle color - something like a French manicure - why not play with your color choices to find the right one? Go bold if you're wearing ruby or garnet. Go traditional if you're wearing diamonds. Experiment with colors, especially if you're wearing a bracelet with brighter gemstones.
Shoes
Depending on the length of your wedding dress, your shoes may or may not be on display. If they are, tie in your shoes with your jewelry. A splash of color will bring your entire look together. Faux stones on your footwear can make you shine from head to toe. If you're going with the basic heels or subtle color, don't expect to catch many eyes. Instead, consider switching things up and go bold with your shoe choice. After all, you want everyone to be in awe at first glance as you walk down the aisle.
Accessories
Saying your "I 'do's" in front of your family and friends isn't the only time you'll want to accent your wedding jewelry. What accessories will you bring with you to the reception? Will you have a purse or a clutch with you? If so, this is another opportunity to accent your jewelry and continue to showcase it (and your beauty) in all its glory for your entire wedding day. Go with a color that matches your gemstones or metal choices. Or add some sparkle to a purse or clutch to make it stand out.

If you haven't chosen what wedding jewelry you'll wear, browse the John Atencio wedding collections to find the perfect match for your wedding dress. You're sure to find something that makes you even more beautiful than you ever thought possible.
Treat Your Bride-to-Be with Matching Wedding Jewelry
You've found the perfect person and the perfect engagement ring. You've even popped the question. Now begins the wedding planning when you attempt to turn both of your visions into a harmonious reality. But your tedious to-do list isn't the only thing to consider; to make the day truly special, everything should be wrapped around moments of surprise.

From the second you see your gorgeous bride, head to toe, walking down the aisle, to all the little moments you just can't plan for, surprises elevate the experience. Why not jump on the surprise bandwagon early and treat your bride-to-be to matching bridal jewelry to go along with her engagement ring?
The Gift of Matching Bridal Jewelry
Matching wedding jewelry adds joy to the moment while elevating her beauty on the biggest day of her life. To hit the right mark, however, it's important to choose the right piece.

Jewelers like John Atencio design jewelry with an inspiration, theme or story in mind. This always adds a unique beauty to each piece shared with the world. Whether it's earrings, a necklace, or a pretty little (or not so little) bracelet, this piece of jewelry will be part of your bride's story she'll never forget.

There are some questions you may want to keep in mind as you begin shopping for matching bridal jewelry to surprise her:
What is the style of her dress and what is the neckline?
What types of earrings does she like - studs or drops?
What types of gemstones does she wear? Or does she prefer diamonds?
Does she like a particular type of gold? Yellow, white, or rose?
Does she like long or short necklaces?
Will a bracelet get in her way? Does she wear bracelets at all?
Does she like dramatic jewelry or something simpler?
If you don't know the answers to these questions, you'd better start investigating before it's too late. After she's picked the perfect wedding dress for the big day, she'll start thinking about how she'll wear her hair and then what jewelry will make a splash as she walks down the aisle.

Finding the perfect jewelry to complete the look can be difficult. Help make it easier for her from the start by shopping for bridal jewelry during the engagement. The piece of jewelry you choose to gift her isn't just for her wedding day but something she can wear to remind her of the love you two will share for a lifetime.

Make this moment special by surprising her with the wedding jewelry to go with her engagement ring and check off one more to-do on her list. A little surprise before the wedding is the perfect way to show her how excited you are to spend the rest of your life with her. Keep the magic in the air by planning a romantic date night to give her the set, making the gift even more memorable.

Bear in mind that, whether it's a pair of diamond studs or a dazzling diamond tennis bracelet, wedding jewelry isn't just about your special day. It's a symbol of love to be coveted and treasured for a lifetime.

If you're not sure where to start, simply let us know that you are interested in bridal jewelry to complete the look. We'll work with you to find the perfect engagement ring and matching jewelry for the day itself. Your wife-to-be will be thrilled with the added surprise of complementary jewelry that enhances her walk down the aisle.

Remember, the engagement ring you chose reminded you of the person you've decided to marry and the love you share always and forever. By pairing this magical token of love with matching bridal jewelry, you're completing the look and feel of the story behind those jewelry designs. Shop online or visit a John Atencio location today to let us help tell your love story.