What Diamonds Are Trending For 2023?
black diamonds, canary diamond, diamond engagement rings
3/3/2023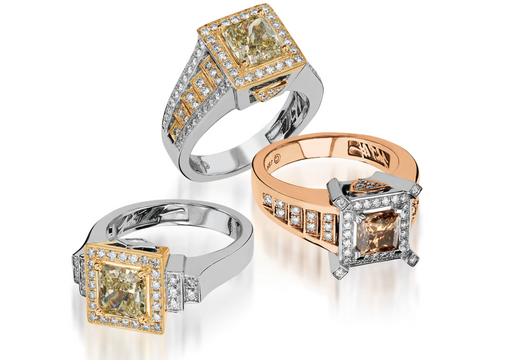 Nothing radiates elegance and glamor like a brilliant diamond gemstone. But which types of diamonds are making headlines among contemporary fashionistas? From champagne-colored diamonds and Toi et Mois designs to rare green diamonds and tapered baguette cuts, these popular trends are getting the most buzz. Discover some of our favorite diamond and engagement ring trends for 2023.
Champagne and Chocolate Diamonds
Champagne diamonds are having a moment right now among women who covet a unique, beautifully colored stone. Infusing an engagement ring with a distinctive look, these diamonds are generally light brown with a sparkling hue. The alluring hue can range from light brown to deep, dark brown, resembling the color of champagne or cognac. 
It's common for champagne diamonds to be marketed as Chocolate Diamonds, which is actually a specific brand name used by Le Vian. These days, however, the term chocolate diamond is broadly used by many in reference to any brown diamond that has a rich, warm tint reminiscent of chocolate. 
Whatever the case, both champagne and chocolate diamonds get their color from the presence of nitrogen atoms and internal graining, which occurs during the formation of the stones. For the most part, both diamonds are essentially the same, although different stones can vary in hue and character, with some having secondary colors such as orange or yellow.
Also called cognac diamonds, brown-colored diamonds have an alluring warmth that makes them a trendy choice for modern brides-to-be. And their beauty is further amplified when surrounded by one of John Atencio's artfully crafted designs.
Baguette Diamonds
Whether featured as accents or center stones, baguette diamonds are another growing trend in diamond stones — and for good reason. Since the cut preserves more of the rough stone's carat weight, the ultimate cost tends to be less than that of brilliant cuts. And while baguettes do tend to sparkle a little less, they provide a superior showcase for a diamond gemstone's clarity.
A rectangular step cut, baguette diamonds can have tapered or straight edges. Prized for their minimalistic and modern look, these fashionable cuts still manage to strike a chord in the heart of today's Art Deco enthusiasts. In addition to being popular center stones in engagement rings, baguettes are also a trendy choice for accent stones thanks to their subtle yet elegant look.
Green Diamonds
In 2023, don't be surprised to see green diamonds grace the fingers of more and more fashionable brides. Natural-colored green diamonds with fully saturated hues are some of the rarest and most sought-after gems. When it comes to fancy-colored diamonds, these vivid green gems are among the rarest and most intriguing engagement ring stones. 
Green diamonds gain their color from simple structural defects produced by radiation or complex defects involving hydrogen, nitrogen or nickel impurities. But while it's scientifically basic, the formation process is exceedingly rare, which makes naturally colored green diamonds exceptionally expensive and difficult to obtain.
If green is your color and you don't want to pay a premium for a green-colored diamond, you can always choose a ring with a gorgeous emerald center stone. There are also all sorts of other alternative engagement rings available in a rainbow of hues that add visual intrigue to engagement rings while allowing you to show off your one-of-a-kind style. 
Yellow Diamonds
Also known as canary diamonds, fancy yellow diamonds have established a growing niche market for consumers who want to add a unique twist to their engagement rings. 
As their name suggests, yellow diamonds have an obvious yellow body color when viewed in a "face-up" position. The yellow hue comes from small amounts of nitrogen within the stone's crystal structure. The richer and purer the yellow, the more valuable the gemstone. 
Interestingly, white diamonds with small traces of yellow are generally considered less valuable, But the more vivid the yellow becomes, the more valuable the gemstone. 
In general, yellow diamond prices can be very affordable and sometimes even cost less than a white diamond of the same quality. However, deep-yellow diamonds can be exceptionally valuable. In fact, depending on their cut, clarity, color and carat, yellow diamonds can cost hundreds of thousands of dollars. 
Toi et Moi Rings
Prized for their beauty, deep meaning and fascinating history, Toi et Moi rings are another trendy favorite in 2023. Eminently eye-catching, these gorgeous pieces feature two diamonds (or contrasting gemstones) set side-by-side in one ring band. 
Toi et Moi is a French term that translates in English to "you and me." The actual diamond ring design comes with a romantic history of its own, dating back to the Napoleonic era when Napoleon Bonaparte gave Josephine de Beauharnais a Toi et Moi ring as a symbol of their love.
In addition to brilliant diamond gemstones, Toi et Moi rings can feature rubies, sapphires or emeralds. They can also be set in a variety of styles, including uncomplicated solitaire settings or more elaborate designs with additional accent gemstones or intricate, creative metalwork.
With over half a century of experience and expertise, John Atencio can design a custom Toi et Moi ring for your unique love story. Make an appointment to learn how the ring customization process works and start planning the ring of a lifetime. 
Black Diamonds
Glittering with intrigue, mystery and intense allure, black diamonds have become a popular choice for many modern women. These authentic diamond gemstones get their rich color from significant quantities of tiny mineral inclusions such as pyrite, graphite or hematite. It's these concentrations of minuscule internal features that give the deathless black diamond such a dark, dense appearance.
Commonly known as "fancy blacks," black diamonds absorb light while exuding an incredibly rich color in a manner that seems to defy nature. Striking and unusual, this trendy diamond adds eye-catching allure to John Atencio's stylish jewelry designs, creating a harmonious union of luxury, formality and mystery. 
While trends come and go, your diamond engagement ring should never go out of style. When it comes to choosing the right piece, there are so many options. John Atencio's thoughtful experts can take the stress and guesswork out of the selection process, leading you to the perfect ring based on your bride's preferences and style. Visit one of our convenient locations and let us help you find the perfect engagement ring or diamond gift for your monumental moment.