Wedding Earrings: A Comprehensive Guide
bridal jewelry, diamond earrings, diamond stud earrings, drop earrings, wedding jewelry, women's earrings
6/29/2023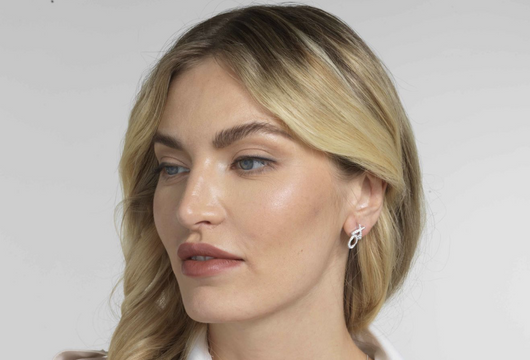 Wedding earrings aren't just another piece of jewelry. They are an essential facet of the bridal ensemble and a crucial component that adds a unique sparkle to the bride. This guide offers a comprehensive overview of wedding earrings, shining a light on their significance and the various styles while offering tips on selecting the right pair to complete your wedding day look. 
Why Earrings Matter on Your Wedding Day
A wedding is more than a ceremony—it's a symphony of carefully chosen elements, and earrings are one of the pivotal notes in this beautiful composition. They accentuate the bride's allure, completing the wedding ensemble with a touch of elegance and style. They serve as radiant focal points that accentuate your facial features and add an extra layer of charm to your wedding attire. Their significance lies not just in their beauty but in their ability to tie together the entire bridal look.
In today's fashion-forward wedding scene, bridal earrings do more than simply accessorize—they make a statement. The current trend sees brides adorning their ears with not just one but a combination of stunning earrings, each unique yet harmonious, making the ear the main stage for jewelry. Statement earrings, coupled with other chic pieces, provide a striking and novel way to express personal style, turning heads and adding a dash of glamor to your unforgettable day.
Understanding Different Types of Wedding Earrings
The right earrings hold the power to enhance a bride's features, tie together the bridal look, and make an impression of their own. But before you even think about choosing a pair of earrings for your wedding day, you need to consider all the available styles.
As their name implies, statement earrings demand attention. They offer an opportunity to express your unique style on your special day. They also pair beautifully with simple wedding gowns for a standout, stylish look that attracts attention for all the right reasons.
Chandelier earrings lend an air of vintage elegance, swaying delicately with every turn of the head and catching the light in a mesmerizing dance. They are the ideal choice for brides seeking a dose of glamor on their special day.
Swaying along with the bride's movements, drop earrings are a dazzling way to illuminate your look. Dangly earrings, on the other hand, offer a more subtle elegance, adding just the right amount of sparkle to any bridal ensemble. For brides leaning towards understated sophistication, simple wedding earrings serve as perfect companions, effortlessly complementing any wedding look without stealing the spotlight.
Pearl Wedding Earrings
The embodiment of elegance and refinement, pearl bridal earrings have long been a classic choice for brides worldwide. Their timeless appeal and versatile nature make them a beloved accessory that harmonizes with various bridal styles. The pearl's lustrous charm imbues a sense of sophistication and grace, further elevating the bride's ensemble.
Speaking specifically of pearl drop wedding earrings and pearl dangle earrings, their allure lies in the ability to frame the face delicately, adding a hint of classic glamor to the bride's face. Some styles fuse the simplicity of the pearl with intricate designs or complementary stones, enhancing the natural beauty of the pearls. Whether they are nestled in a halo of diamonds or dangling from a slender gold wire, pearl drop earrings bring a touch of magic to any wedding look, making them a favored choice for this momentous occasion.
Wedding Earrings: Gold, Silver, and Rose Gold
Choosing the metal for your wedding earrings goes beyond a simple matter of color—it's a decision influenced by the wedding theme, your personal style, and even your complexion. 
Earring metal choice can add a unique texture and depth to your wedding ensemble, giving your look an extra edge of sophistication. Gold wedding earrings impart a traditional, luxurious touch, perfectly complementing classic wedding themes and warm skin tones. Silver earrings, on the other hand, exude a modern and cool elegance that can be a stunning choice against cooler skin tones and contemporary wedding styles. Then there are blush rose gold wedding earrings, which enhance all complexions while straddling the line between traditional and modern.
When choosing your metal, consider your overall wedding aesthetic, your individual style, and the hue that best flatters your skin tone to find the perfect match.
Diamond Wedding Earrings
Diamond wedding earrings hold a timeless appeal that transcends popular fashion trends. A classic symbol of elegance and luxury, they offer unmatched brilliance and sparkle. Their fire and scintillation have a way of capturing attention by adding a radiant finish to any bridal look.
Whether arranged in a striking ring of gemstones, a bold pave, or a dangling cluster, diamond earrings offer striking sophistication. They are the perfect choice for a bride aiming for a traditional yet glamorous appeal on her wedding day. Each gleaming facet adds an extra touch of magic to this momentous occasion, serving as an enduring token of this special celebration.
Styling the Ear
A modern trend that's finding its way into the bridal scene is "ear styling" or "curated ear" – an expressive, personalized approach to adorning the ears. This concept involves using not just a single pair of earrings but a complementary assortment of pieces like diamond studs, hoops, and even ear cuffs. By adding multiple diamond hoops or integrating a diamond stud into chandelier earrings, brides create an intricate tableau of sparkle that gives their wedding look a fresh, contemporary edge. This versatile trend invites brides to express their individuality, offering an exciting way to elevate the traditional bridal aesthetic.
Choosing the Right Earrings for Your Wedding
Choosing the right earrings for your wedding day requires a harmonious blend of your personal style with elements of your bridal ensemble. The first thing to consider is your wedding dress. The dress's style and details play a significant role in dictating the type of earrings you should wear. A strapless dress, for instance, might call for a pair of statement earrings, accentuating the shoulders and neck area, adding a dash of elegance to your overall look. 
Equally important is the compatibility of your earrings with your other pieces of jewelry. If you'll be wearing a necklace or bracelet on your wedding day, you'll want your earrings to complement these pieces rather than compete with them. Imagine a necklace with a large pendant—pairing it with simple earrings allows the pendant to be the star, ensuring a balanced, refined look.
The choice of your wedding day hairstyle also influences your earring selection. For brides with cascading locks, bridal chandelier earrings offer a tantalizing hint of sparkle that weaves its way through your hair. Conversely, if you have shorter hair, a more compact earring design ensures that your earrings won't get lost amidst your tresses while serving as an elegant highlight.
Lastly, the shape of your face plays an essential role in the earring selection process. Certain earring styles are better suited for specific face shapes. Drop earrings can add length to a round face, creating a flattering elongation effect. For brides with an oval face, the earring world is your oyster—you have the freedom to experiment with any style. The most important consideration is that you feel beautiful and comfortable, letting your individuality shine on your wedding day.
If you aren't sure where to start, get insight from the consultants at John Atencio. A passionate and creative designer, John is well-known for staying up-to-date with the latest bridal jewelry trends and creating pieces that reflect current styles. With his expertise, you can trust that your jewelry will perfectly blend tradition and modernity, so you will look radiant on your big day.