Build Your Own Engagement Ring Online: Made Easy
custom engagement ring, customize engagement ring, diamond engagement ring
6/16/2023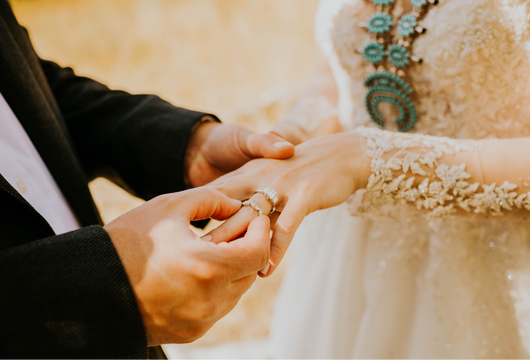 A legend in the jewelry industry, John Atencio crafts uniquely artful engagement rings you won't find anywhere else in the world. Now, you create the John Atencio ring of your dreams from home, thanks to his new online ring-building resource. 
In this step-by-step guide, we explain the easy, straightforward process that allows you to select from John's most stunning ring designs. Choose a ring with a fine, ready-to-set diamond (certified lab or certified natural) for 1-carat, 1.5 carat or 2-carat sizes. 
It's easy, convenient, and deeply rewarding. Let's dive in and start building a breathtaking ring that reflects your beautiful love story.
Before You Get Started
Thanks to John Atencio's online ring builder, you can easily create the ring of your dreams in the comfort of your own home. That said, this convenient process may not be right for customers who want customized features only available in-store. 
You can customize your setting and diamond shape with a John Atencio expert in-store. It can be as simple as choosing your center stone – all the way to creating your ring from scratch. For any custom options in terms of diamond shape, modifications to the ring design, or fully customizing a ring from scratch, visit one of our stores and work with one of our bridal concierges. You can also read more about customization here. 
Here's how you can use John's intuitive online ring builder to streamline the creation process.
Step 1: Choose Your Ring Design
Ready to start creating your own engagement ring? Start by choosing a ring setting and design.
The engagement ring setting plays a crucial role in determining how your gemstone is showcased. It's the essence of the ring and the foundation that holds your diamond, making it an essential aspect of the ring design. John Atencio offers many distinctive engagement ring options that can either accommodate a specific diamond size and shape online or be further customized for any diamond shape or size in store. (Just make an appointment at a convenient John Atencio location)
John offers a broad range of beautifully crafted and unique designs in 18 karat gold or platinum. To begin customizing your ring online, select your favorite John Atencio engagement ring design/setting as shown with the diamond shape that is featured.
Still need some help? Read about how to choose a setting for your engagement ring and check out our diamond engagement ring cheat sheet for more helpful information. 
Step 2: Select the Carat Weight
Now that you have your setting and design, it's time to decide on the carat of your diamond.
Carat is the term used to measure a diamond's weight, and by extension, its size. With that said, although carat weight is often associated with the size of the diamond, it's important to remember that higher carat weight doesn't always translate to a larger-looking stone, because the cut, shape and setting also influence its appearance.
Step two is to select the perfect carat size for your engagement ring. It is a balance between your personal preferences, the size of your finger or your partner's finger, and your budget. As the carat size increases, the dimension of each John Atencio engagement ring also changes based on the size of the center stone.
Keep this in mind as you browse through the available options of 1 carat, 1.5 carat, or 2 carat sizes on the John Atencio website. Remember, it's about finding the perfect fit, both in size and style.
Need a little more guidance? Contact our helpful concierge or read more about carat weight and the other important 4Cs before choosing your center stone size. 
Step 3: Decide Between Lab or Natural Stones
Choose whether your center stone will be a natural or lab-grown diamond.
When selecting a stone for your engagement ring, you have the choice between a certified natural diamond and a lab-grown gemstone. Lab-created diamonds are grown in a controlled laboratory environment. They carry the same physical, chemical and optical characteristics as natural diamonds but are typically more affordable. Since they are man-made, they also have less environmental impact, making them a sustainable choice. 
On the other hand, natural diamonds are formed over billions of years deep within the Earth's crust under high temperature and pressure conditions, making each one truly unique. They are often seen as a symbol of luxury and long-term investment due to their rarity. However, they can be more expensive and their extraction can have a larger environmental footprint. 
When selecting your diamond as part of Step 3, it's important to understand that not all diamond jewelers embrace John Atencio's unwavering ethical standards. When crafting his uniquely dazzling natural diamond jewelry, John maintains a strict adherence to unyielding ethical and social standards.
This means sourcing his natural diamonds from reputable, eco-conscious suppliers and complying with the Kimberley Process Certification Scheme (KPCS), a critically important worldwide effort aimed at putting an end to the trade of "conflict diamonds'' used to fund wars, human trafficking and other harmful activities. 
With all that said, since all lab diamonds are made in dedicated environments, any ethical issues don't exist. Lab diamonds also usually cost about 30% less than natural diamonds of comparable quality and size. In the minds of many, these factors are enough to offset any potential concerns about the somewhat limited resale value of lab-grown diamond gemstones.
When deciding between a lab-created and natural diamond in Step 3, consider what matters most to you. If you value uniqueness, tradition, and long-term value, a natural diamond might be your choice. If you're looking for affordability, sustainability and identical beauty and durability to a natural diamond, a lab-created stone could be a perfect choice. 
John Atencio offers both options, so you can select your stone online or find a stone in-store that aligns with your values, budget and personal preferences. Bear in mind that the carefully certified diamonds' color and clarity that John has hand selected for his online ring builder are near-colorless, with a Natural rating G-H  and Lab diamonds rating closer to D-F.
If you need more help deciding, read about the benefits of choosing a lab-grown diamond and natural diamond gemstone. 
Step 4: Select the Ring Size
Now that you have your stone, setting and design, it's time to choose a size.
Getting the right ring size is a crucial step toward creating a tailor-made engagement ring. Too loose, and the ring might slip off; too tight, and it could be uncomfortable.
Finding the correct size is simple on the John Atencio website. Simply read about how to choose the correct ring size and then consult our helpful ring-sizing chart. Remember, it's not just about crafting a beautiful ring, it's about crafting a ring that fits beautifully too.
Step 4 is to select your ring size. John Atencio provides free sizing, so if it is a bit off, it can be easily resized. 
Visualizing Your Creation
One of the standout features of the John Atencio website is the ability to preview your customized ring. As you navigate through each step of the creation process, you'll be able to see a high-quality photo of your chosen ring design, complete with your selected setting, stone and size. This visual guide allows you to fully appreciate the unique beauty of your personalized engagement ring before finalizing your purchase.
When evaluating the look of your customized John Atencio ring, remember, your engagement ring is more than a piece of jewelry; it's a representation of your unique love story. So take your time, make any adjustments if necessary and trust your instincts. After all, this is a ring meant to last a lifetime. 
Step 5: Place the Order
Is everything ready? Place your order and sit back while we create your ring!
Once you are satisfied with your creation, the next step is to place your order. Finalize your design by double-checking each element: the setting/ring design, the ring size, the carat,, and your choice between a lab-created and natural stone. When everything aligns with your vision, add the customized ring to your cart and proceed to checkout. Remember, you may want to add the wedding band at the same time to ensure a perfect fit. 
John Atencio ensures a seamless and secure payment process with multiple payment options for your convenience. Each piece is meticulously crafted to order, reflecting the superior quality and attention to detail that John Atencio is known for. Please allow 6-8 weeks for your piece to be created. Once ready, your ring will be safely delivered to your specified address in a signature John Atencio gift box, bringing your unique love story to life. 
With John Atencio, every step of the way is marked by excellence and a commitment to delivering an unforgettable piece that lasts a lifetime.
Concierge
At John Atencio, our service doesn't end once your order is placed. We have a dedicated concierge team available to assist with any questions or needs you may have. Whether you're seeking guidance during the design process, or have questions after your ring arrives, our concierge is here to provide personalized support.
We also offer comprehensive after-sales services to ensure that your engagement ring remains as radiant as the day you received it. From resizing to professional cleaning services that help maintain the ring's brilliance, we're at your service. We also make sure your ring is beautifully gift-wrapped for the perfect proposal and provide a manufacturer's warranty for your peace of mind, underlining our commitment to quality and customer satisfaction.
At John Atencio, we're here to be a part of your love story, providing support and service long after your purchase.
Let's Get Started Today!
Creating your own engagement ring online with John Atencio is an easy, effortless, rewarding journey. The joy of this process lies not just in the stunning end product, but also in the personal touch that comes with each choice you make. When you create your own ring, you're not just purchasing a piece of jewelry; you're crafting a symbol of your unique love story, resulting in a piece that's as individual as you and your love.
You can also order a matching wedding ring. In fact, we encourage customers to buy them at the same time so it guarantees a perfect fit. 
With John Atencio, designing your dream engagement ring is truly a personalized and unforgettable experience. So, let's get started building the ring of your dreams!