How To Incorporate Colorful Jewelry into Your Summer Wardrobe
gemstone jewelry, gemstones
7/28/2023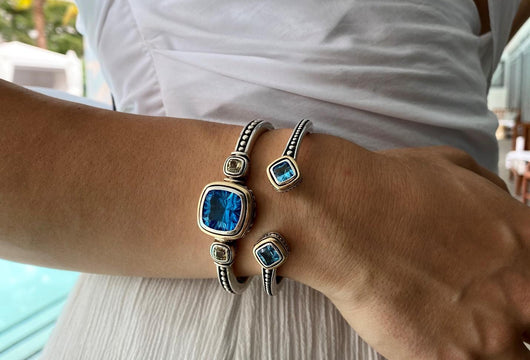 Have you been considering complementing your wardrobe with colorful summer jewelry? Vibrant and beautiful, gemstone-rich jewelry sits at the top of the fashion world and will make you feel glorious when you wear it. So why wait? Summer is upon us, and there's nothing like-spirited, colorful jewelry to bring forth a great mood and set you apart from the rest. 
Feeling fantastic is easy when you go with bold and distinctive John Atencio gemstone jewelry. Handcrafted in hues of purple, blue, green, red, and yellow, these fine gemstone styles are designed to deliver the happiness of summer color. Read on to discover how you can incorporate some color into your style, then visit Style in Color to select some of your own stunning summer jewelry.
The Appeal of Gemstone-Rich Jewelry
Gaining ground in recent years, the fashion houses have once again declared bold, colorful jewelry like the John Atencio Arrivo Collection in Blue Topaz as a hot trend. While color is complementary during any season, it especially lends itself to the warmer months because it reflects the growing season that produces a rainbow of colors in the flowers we love. Colors prompt strong psychological responses in us and can manifest both physical and emotional sensations. This is why colored gemstone jewelry is so magical during the summer. 
Gemstone-rich jewelry is both stylish and versatile, allowing you to go casual or formal while creating a glittering focal point that everyone notices. Brilliant and unique, colored jewelry is a must that beautifully complements any summer wardrobe and lifts your spirit while doing it. 
Colorful Summer Jewelry Trends for the Season
If you're searching for the latest styles, metals, and colors, look no further than John Atencio. From chunky statement pieces to mixed metals and the richly colored gemstones seen in the Paloma Collection featured above, he designs the most desirable jewelry that is exactly on trend. Certain gemstones that have been widely lauded for Summer 2023 lend themselves to specific sentiments:
Conveying a sense of calm? Select a blue gemstone, such as aquamarine, blue topaz or turquoise, to express your serenity.
Desiring elegance? Choose regal purple gemstones, such as amethyst or tanzanite, to elevate your ensemble.
Feeling happy? Opt for sunny yellow gemstones, like citrine or yellow sapphire, to add joy to your day. 
Are you passionate? Select glamourous red gemstones, like ruby or garnet, to make a bold statement.
Need to relax? Choose a light green peridot or deep green emerald to convey your sense of peace. 
Feeling energetic? Incorporate vibrant orange gemstones, like orange chalcedony, for a bold look that will lift your spirits. 
Keep in mind that pastel gemstones are an excellent choice for spring and summer jewelry because they're soft and feminine and can complement casual or formal attire. Brightly-hued gemstones are also a hit in the summertime because they draw attention to your summer clothing with a fun pop of color.
Choosing the Right Colorful Jewelry for You
There is more than one factor to consider when selecting the perfect summer jewelry. First, ask yourself what you're naturally drawn to in terms of style and color. We've elaborated on the emotions involved in color choices, so examine those, then ponder the style of jewelry you normally select.
If you're attracted to bold, memorable pieces like the John Atencio Custom Aquamarine and Diamond Ring featured above, you're right on the mark because they're currently on trend. You might also ask yourself: 
Do these colors complement my skin tone? Dark-hued colors often enhance lighter-toned complexions, while pastel colors usually bring out the best in darker-toned complexions. This said, if you're drawn to a specific color that fills you with joy, acquire that piece regardless of convention.
Does the style of the jewelry blend with my personal style? A more traditional person may choose a more delicate piece, while someone preferring a modern personal style may gravitate toward bold statement jewelry. 
What colors harmonize with the palette of the wardrobe? Select gemstone colors that go well with the clothing in your closet. Many people stock clothing in a variety of shades they can choose from to reflect their current needs and mood, so they almost always have something to wear with their favorite summer jewelry colors. 
Reviewing these factors, the jewelry you should wear in the summertime will support your complexion, your personal style and your wardrobe. Most importantly, it should set your soul on fire. 
How to Pair Colorful Jewelry with Summer Outfits
It's easier than you might think to pair your colorful summer jewelry with your fun and breezy summer outfits. While you can always choose your gemstone pieces based on mood, color matching or color complementing, these general tips can point you in the right direction. 
For a relaxed beachy look that will elevate your vacation wardrobe, wear matching colorful jewelry everywhere possible. Inspired by the cool waters of Bermuda, the Bermuda Collection by John Atencio shown above is the perfect answer to your summer jewelry question. 
If you're going casual with a sundress or t-shirt and shorts, wear a colorful necklace for a great focal point. 
For a night on the town that calls for a cocktail dress or a jumpsuit, dress it up with a colorful summer ring. 
When you've got a formal event that calls for a skirt or dress, pair it with a gemstone-rich bracelet. 
There are endless options for color in a summer wardrobe, so be creative and have fun with it. 
Caring for Your Colorful Gemstone Jewelry
Every piece of John Atencio gemstone jewelry is handcrafted by master artisans to become an heirloom worthy of handing down to future generations. But just like any piece of jewelry, the way you care for and maintain it makes a difference in its longevity. Moreover, while a diamond is generally rated as a "10" on the Mohs Scale of hardness, colored gemstones are usually a little softer, making their care just as important as that of a diamond.
Owning a genuine John Atencio is special, and protecting it is paramount. General wear and tear is customary, but there are steps you can take to keep your jewelry in good condition: 
Wear gloves or don't allow chemicals to come in contact with it while cleaning. 
Keep it in a safe place away from small children and animals.
Refrain from wearing it while engaging in activities that may damage it, such as labor involving your hands or painting.
John Atencio offers complimentary in-store cleaning over the lifetime of the jewelry to help keep your summer jewelry in the best condition possible. Simply bring your piece to the store every six months for a cleaning and inspection to ensure the stones are secure in their settings. 
Using a gentle cleaning solution, such as John Atencio Gentle Jewelry Cleaner, on your summer jewelry is advisable. Formulated to clean gemstones, sterling silver, gold and pearls, it can help keep your jewelry free of dirt and grime between in-store cleanings.   
To assist in keeping your piece in good condition, it's suggested that you obtain a Lifetime Warranty through Jewelers Mutual, available at the time of purchase. This lifetime care plan covers the following at no extra cost:
Ring resizing
Rhodium plating
Refinishing and polishing
Loss of stones due to defective setting
Broken, bent or worn prongs
Broken clasps, bracelets or chains
Cracked or thinning bands or shanks
Replacing cracked or chipped stones
Broken earring posts and
Pearl restringing.
It's also advisable to have your valuable gemstone jewelry appraised and insured, which is important to guard against damage, loss, disappearance, and theft of it.
John Atencio utilizes professional appraisers who will skillfully appraise your jewelry for insurance purposes. We then facilitate a connection to Jewelers Mutual to insure your piece. A knowledgeable concierge will gladly work with you toward getting your piece appraised and insured. Because when you own a genuine John Atencio, you want to protect it.