Planning to Pop the Question? Proposal Tips for Crafting the Perfect Moment
christmas proposal, holiday proposal, places to propose, proposal, proposal ideas
7/20/2023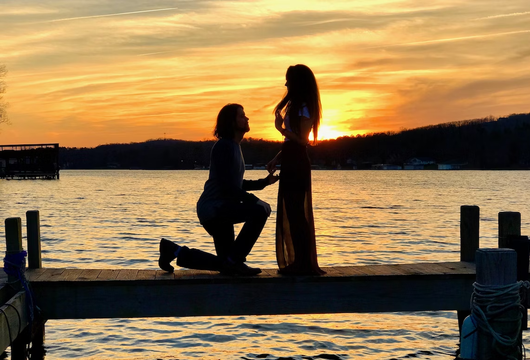 We all dream of the perfect proposal. A story that will live on in our minds and hearts for the rest of our lives. This is why most people put significant thought into choosing the perfect engagement ring.
At the same time, there are many other factors that go into planning a magical moment that's worthy of your love story. Here are some proposal tips for guys to help you plan an unforgettable memory she will be excited to share with family and friends.
Step 1: Choosing the Perfect Location
The location for your proposal is a critical factor that sets the scene for a life-changing moment. Start by considering places that hold significance to your relationship. This could be where you first met, a favorite park where you've spent many lazy Sunday afternoons, or the restaurant where you had your first date. 
On the other hand, you might be drawn to a proposal location that's simply awe-inspiring in its own right. This could be a beautiful natural setting, such as a beach at sunset, a stunning mountain vista, or a peaceful, secluded garden. Alternatively, it might be a landmark, a stunning hotel rooftop with city views, or even a destination overseas that you've both always wanted to visit. In this case, the place itself creates a sense of grandeur and wonder that enhances the significance of your proposal.
However you choose, make sure the location aligns with your partner's preferences, providing a comfortable and special setting for this momentous occasion. If you need some help, consider these romantic proposal spots in and around Denver, Colorado.
Step 2: Crafting the Perfect Words
Crafting the perfect proposal starts by deeply reflecting on your unique journey as a couple. Revisit key moments—your first meeting, first date, or when you realized you were in love—and consider how your feelings have evolved over time. These experiences, laden with personal sentiments, will give your proposal emotional depth that resonates with your partner.
Secondly, identify what makes your partner truly special to you. Contemplate their endearing qualities, their unique traits, the ways they make you laugh, or how they comfort you in times of distress. Sharing these insights not only shows your attentiveness but also underscores why you want to spend the rest of your life with them. Your words, therefore, should reflect a genuine understanding and appreciation of who they are. 
Step 3: Setting the Atmosphere
Setting the stage for the perfect marriage proposal is about more than choosing a place—it's about adding a personal touch that expresses your shared memories and hopes. The ambiance has the power to both complement and amplify the depth of emotion in this important moment, making it an indelible memory in both of your hearts. 
Start by reflecting on your partner's personality. Would they prefer a tranquil beach as the sun paints the sky, a quaint bistro with a welcoming aura, or a cherished spot like the place where your love story began? Consider, too, the time of day. The soft brushstrokes of daylight could paint a beautiful, natural backdrop, while the warm glow of evening lights can add a touch of romance. 
Music can also bring magic to the moment. The right melody can strike chords deep within, framing the emotional narrative of your proposal. Choose a song that carries echoes of your shared past or one that wordlessly articulates the profound love in your heart.
For decorations, imagine a blend of elegance and sentimental detail. Consider a trail of delicate petals, each a stepping stone toward your shared forever. You can also add a few fairy lights that cast an ethereal glow, giving the scene an almost magical ambiance. Or picture an intimate gallery of photographs, each capturing precious fragments of your shared journey. This is an especially intimate way to remind you both of the love that has grown and the future that awaits.
Step 4: Adding Surprise Elements
The element of surprise can transform a thoughtful proposal into an extraordinary moment. One way to do this is to involve loved ones in your plan. While maintaining the privacy of the moment, find creative ways to include family and close friends. You might ask them to hold up signs in a public location, appear on a video call, or even be there in person after the initial proposal for a surprise celebration. Involving those close to you not only amplifies the joy but also reinforces the sense of community you're building as a couple.
Another surprise element involves hiring a hidden photographer or videographer to capture the moment. A professional can discreetly document the proposal, allowing you to focus fully on your partner while ensuring you have beautiful images to remember the occasion.
Alternatively, consider integrating a surprise within the proposal itself. This could be anything from arranging a flash mob to your partner's favorite song, planning a surprise trip, or revealing a custom-made piece of artwork. Whichever element of surprise you choose, the key is to add a touch that's personal and meaningful to both of you, creating a story you'll cherish telling time and again.
The Art of Popping the Question
The presentation of the engagement ring is the crescendo of your proposal when all your planning and heartfelt emotions culminate. Make sure the ring box is in an easily accessible yet hidden location so it doesn't reveal your intentions too early. When the time feels right, try to maintain eye contact with your partner as you open the box, allowing them to fully experience the joy of seeing the ring for the first time.
As for popping the question itself, take a deep breath and speak from the heart. Although it might be tempting to rehearse your lines verbatim, try not to sound overly scripted. Instead, express your genuine feelings and emotions. Keep it simple and sincere; you might say something like, "I want to spend the rest of my life with you. Will you marry me?" The authenticity of your words will strike a chord more than any elaborate speech. 
While there are many tips for proposing, when it comes to asking for your partner's hand in marriage, no one knows your special relationship better than you. Remember, this moment is about the two of you and the bond you share, so let your love for your partner guide your actions and words. It's okay to feel nervous; those jitters only add to the sincerity of the moment. That said, you can help settle your nerves by choosing a breathtaking engagement ring that will inspire confidence. 
John Atencio is renowned for crafting exceptional engagement rings using only the finest gemstones and precious metals. While all of his rings reflect the artistry of a master craftsman, John's customized rings take things further by providing a personalized expression of your love story. Whether you want a ring with a nontraditional setting, fancy-shaped stone, or a contemporary creation that blends more than one style, John Atencio can craft a distinctively exquisite custom engagement ring that's as unique as the love you share.
Although choosing the ideal engagement ring can be overwhelming, your experience needn't feel that way. At John Atencio, our jewelry experts can show you how to select a perfect diamond and setting. We can also help you customize a special ring that perfectly represents your unity and once-in-a-lifetime love. Shop online or visit one of our locations, where our seasoned experts can give you proposal ideas and tips on how to propose and guide you toward the one quintessential ring for your big moment.