Wow Her With A Sustainable Jewelry Gift This Holiday
holiday gifts, holiday gifts for women, holiday jewelry, holiday jewelry gifts, sustainable diamonds, sustainable engagement rings, sustainable jewelry
11/7/2023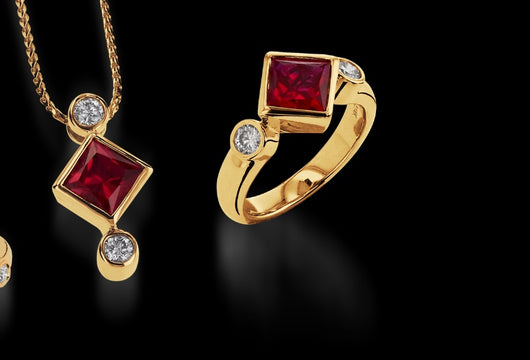 Updated 11/7/2023
Have you been considering presenting her with a sustainable jewelry gift this holiday? Jewelry consumers are leaning toward sustainable jewelry brands as knowledge of the environmental impact of sourcing gold and gemstones continues to gain momentum. Master designer John Atencio, celebrated worldwide for his iconic and bold jewelry creations, has long mandated that his materials be ethically sourced. Lauded for the recycled gold, lab-grown gemstones and responsibly obtained gemstones that his master artisans use to handcraft the exceptional jewelry that bears his name, he continues cultivating impeccable designs of outstanding quality. Explore our 2023 Holiday Gift Guide for the perfect holiday gift that will leave her breathless.

Lab Grown Diamond Studs
Classic sustainable jewelry is fashionable for a lifetime, and nothing complements her outfit like a shimmering set of diamond stud earrings from John Atencio. Impeccably handcrafted with recycled 14-karat white gold and lab-grown diamonds matched for brilliance, these dazzling Lab Grown Diamond Studs are the ultimate in sustainability, quality and beauty. Also available in responsibly sourced and traceable natural diamonds, our selection is substantial, ranging from 0.3 to 2 total carat weight, in grades G to H in color and S11 to S12 in clarity. You'll gift her with a serious dazzle factor when you present these beautiful prong-set studs for the holidays.  
The Decision Luminaire Third Carat Lab Diamond Ring
When the time is now, ask her to be yours with a breathtaking women's engagement ring from an entire John Atencio collection devoted to sustainability. Simple yet inspired design, the Luminaire Collection is John's beautiful contribution to the love between two people and the environmental responsibility that is appreciated by so many. The Decision Luminaire Third Carat Lab Diamond Ring is impeccably handcrafted in 18-karat white gold, cradling a sparkling, princess-cut 0.3- carat lab-grown diamond. Also offered in a half-carat center stone, this exceptional proposal-ready ring will shine brightly on her finger for all of her days.
The Paris Chain Necklace
Chic and memorable, this elegant statement necklace is an example of exceptional jewelry crafted with sustainable materials by John Atencio's handpicked artisans. A part of the Paris Collection, which is inspired by the beauty and glow of the city of lights, the Paris Chain Necklace is meticulously handcrafted in recycled 14-karat yellow or white gold. With its distinctive style and soft curves, this iconic John Atencio creation will highlight her every outfit for every year to come. Her reaction will be worth remembering.  

The 2.0 Carat Lab Grown Diamond Tennis Bracelet
A mere glance at the 2.0 Carat Lab Grown Diamond Tennis Bracelet and you'll understand why lab-created diamonds continue to grow in popularity. Glowing with diamonds that are matched for brilliance, a John Atencio diamond tennis bracelet for women is a treasure to behold around her wrist. Handcrafted in white or yellow gold to exact standards by master artisans, this classic piece of jewelry holds a single row of dazzling, prong-set diamonds. Also offered in sizes 1.0, 3.0, 4.0 and 5.0 carats, this glittering bracelet looks amazing when solo or stacked against other bracelets. You'll never forget her reaction when she opens this holiday gift.
The Paloma Lab-Grown Gemstone and Diamond Pendant 
The sparkle of sustainability is unmistakable when you behold the vibrance of lab-created gemstones. From the Paloma Collection, which refers to the dove as a symbol of peace, the Paloma Lab-Grown Gemstone and Diamond Pendant is designed with the iconic, softly dimensional architecture that John Atencio is known for. Meticulously crafted in 14-karat yellow gold, with a lab-created, princess-cut ruby accompanied by two bezel-set round natural diamonds that have been responsibly sourced, this lab diamond pendant on an 18-inch franco chain is a gift that will always look amazing around her neck. Also offered in white gold with a lab-grown sapphire or rose gold with a lab-grown emerald, a gift with any of these variations inside will absolutely make her holiday.
The Polar Cuff Bracelet
Simplicity speaks volumes when jewelry is made with integrity, and when it's crafted with sustainable materials, the glow is immeasurable. Designed with the contemporary lines and curves that are iconic John Atencio, the Polar Cuff Bracelet is handcrafted with care by master artisans using recycled 14-karat white gold. Also offered in yellow or rose gold, this elegant bracelet will quickly become a staple of her wardrobe, allowing her to wear it casually or formally. She'll always remember when you gifted her with this beautiful, versatile piece of jewelry that looks great on her wrist.
John Atencio Designs Sustainable Jewelry
With clients across the globe, master jewelry designer John Atencio has an impressive 47 years of experience in designing bold and distinctive jewelry. Using inspiration from life's valuable experiences, John sits down to envision and hand-sketch every piece before his master artisans handcraft them with great care. His stance on sustainability is also renowned, as he demands that his designs be brought to life with only recycled gold, lab-grown gemstones and responsibly sourced gemstones. Discover more about the man who upholds the sustainability responsibility as high as he upholds the quality of his jewelry.
This holiday season, make it your mission to delight her with exceptional jewelry sourced and made sustainably. Simply navigate to our online store for an at-home browsing experience, or visit one of our boutique stores to view our jewelry in person. Regardless of your browsing experience, a knowledgeable concierge will gladly answer every question you may have. Because everyone deserves a genuine John Atencio for the holidays.