Matching Your Lifestyle with the Perfect Men's Wedding Band
lifestyle rings, mens wedding bands, mens wedding rings, unique mens wedding bands
7/13/2023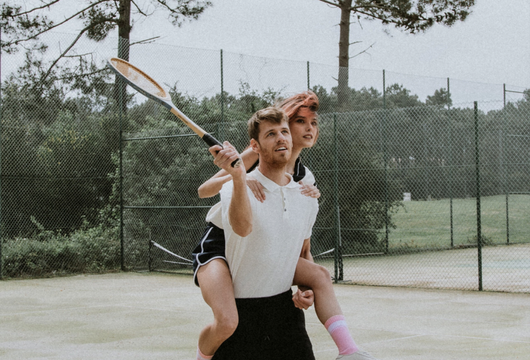 Modern men lead active lifestyles that can put stress on their wedding bands. Fortunately, men's wedding bands come in a variety of durable materials that hold up to rugged conditions. Passionate about creating unique and durable jewelry pieces, John Atencio offers distinctive wedding bands for active men. Let's look at some of our favorites and find out why it's so important to match your ring to the way you live your life. 
Men's Wedding Bands for Active Lifestyles - Why They're Important
When choosing a wedding band, you want a ring that honors your union while reflecting your individual style. At the same time, the ring needs enough durability to meet the demands of your daily life. For men who enjoy the great outdoors, play sports, lift weights, or work with their hands, a comfortable, durable, and practical wedding band isn't just a personal preference — it's a necessity.
The right material and design guarantee your comfort while also minimizing the risk of losing or damaging the symbol of your love and commitment. Bear in mind that all of John Atencio's men's wedding bands are made with a comfort fit design, so your ring will blend seamlessly and comfortably with your active lifestyle.
Doctors and many other professionals also often require a wedding band that can endure a range of demanding conditions. The same goes for men who enjoy hobbies like rock climbing, swimming, weightlifting or cycling, all of which expose jewelry to sweat and the elements. 
The right ring ensures optimal comfort while providing peace of mind. It also allows you to fully engage in your favorite activities without having to worry about damaging the symbol of your love and commitment. By considering your daily activities and profession, you can make an informed decision about the best wedding band material for your unique needs.
Materials for Men's Active Wedding Bands
Men with active lifestyles need bands made of materials that can withstand the rigors of everyday activities while still maintaining their aesthetic appeal. Fortunately, John Atencio offers a range of durable and practical materials, including titanium, tantalum, Damascus steel, and black zirconium, all of which provide unique benefits to suit various needs and preferences.
An excellent choice for active men, titanium is both lightweight and incredibly strong. The corrosion-resistant metal is also hypoallergenic, making it suitable for men with sensitive skin. A rare and dense metal, tantalum combines a dark, lustrous appearance with high resistance to wear and corrosion.
Known for its distinctive patterns, Damascus steel is crafted by layering and forging different types of steel. This process results in a wedding band that is not only strong but also one-of-a-kind. Another popular option, black zirconium, is lightweight and hypoallergenic, much like titanium. Its black color is achieved through a heating process that transforms the metal's surface into a ceramic-like layer, offering exceptional scratch resistance.
Crafted from durable, high-quality materials, John Atencio's men's wedding bands are stylish creations made to stand the test of time. Whether it's a lightweight titanium band with carbon fiber or a unique Damascus steel design, each ring offers the perfect balance between practicality and sophistication for modern men with active lifestyles.
Design Options for Men's Wedding Bands for Active Lifestyles
These days, men's wedding bands come in a diverse array of materials, including meteorites, black diamonds, and even dinosaur bones. Whether you want a sleek, refined ring or a stunning, graceful design, there are all sorts of materials available to suit your distinctive tastes:
Meteorite Rings: Rare and unique, meteorite rings incorporate cosmic debris from comets or asteroids that have landed on Earth.
Tantalum Rings: Trendy and durable, tantalum offers a gunmetal-gray hue with a subtle blue undertone and is hypoallergenic and malleable.
Cobalt Rings: An affordable option, cobalt has a lustrous white gold appearance with good toughness and scratch resistance.
Platinum Rings: Rare and dense, platinum boasts gleaming white brilliance and can be adorned with various finishes for a contemporary appeal.
Damascus Steel Rings: Crafted from a blend of metals, Damascus steel rings are known for their strength, hardness, and unique finish.
Black Zirconium Rings: Bold and durable, black zirconium has a high hardness rating and can be personalized with various design elements.
Gold Rings: Classic and versatile, gold rings can be customized with white gold or paired with other materials for a sophisticated look.
Diamond Bands: Elegant and impactful, diamond bands feature brilliant-cut gemstones that elevate the appearance of a wedding ring.
Dinosaur Bone Rings: Crafted from real fossils, dinosaur bone rings offer a unique and fascinating connection to the ancient past.
In addition to these materials, John also offers an intriguing selection of outdoor and lifestyle men's rings. Drawing inspiration from the natural world, these pieces are made to resonate with men who are passionate about sports and the great outdoors. 
Most importantly, John can customize your ring to suit your lifestyle, creating a durable piece that perfectly represents your commitment, love, and passion for life. For instance, a low-profile design with smooth edges and a comfortable fit can help prevent the ring from getting caught on equipment or causing discomfort during physical activities. There are a number of other ways John can specially craft your band. Make an appointment to learn more.
Whatever the design, all of John's men's wedding bands showcase exceptional elegance, cutting-edge materials, and a distinctive character that's truly one of a kind.
Choosing the Perfect Men's Wedding Band for Your Lifestyle
Choosing a wedding band is a significant decision. In addition to representing a lifelong commitment, this piece will become something you wear every day. If you have an active lifestyle, you'll need to consider some key factors, including material, design, and comfort.
While beautiful, traditional materials, such as gold and silver, may not be the best choice for men who participate in work or activities that will leave their rings susceptible to scratches and dents. Alternative materials may be a better option, especially when crafted by a master designer such as John Atencio, who uses diverse materials to create stylish and personalized looks.
As previously mentioned, design is another essential consideration if you are an active man. John Atencio can customize your ring to perfectly fit your lifestyle, ensuring a durable piece that represents your love story while standing the test of time. 
Preserving Your Men's Wedding Band for Active Lifestyles
Active individuals often engage in activities that expose their rings to harsh conditions, increasing the potential for damage. It's important to take special precautions to ensure the longevity and beauty of your wedding band. This means removing the ring during activities involving chemicals, extreme temperatures, or potential abrasions. 
You can also prolong the life of your ring by keeping it free of oils and grime. Over time, dirt, sweat, and other debris can accumulate on a ring, causing discoloration over time. To keep your band looking its best, clean it regularly using a gentle solution of warm water and mild dish soap.
You can also get a complimentary in-store cleaning over the lifetime of your John Atencio jewelry. John also offers a gentle at-home jewelry cleanser to help keep your band looking its best. 
Searching for a distinctive men's wedding ring? Shop online or visit one of our convenient locations, and our attentive experts can help you find a uniquely sophisticated band that perfectly matches your one-of-a-kind style. Let our knowledgeable team show you how to select a stylish wedding ring to honor your walk down the aisle.