What Are Comfort Fit Men's Wedding Bands? | John Atencio
comfort fit, mens wedding bands, mens wedding rings
4/21/2022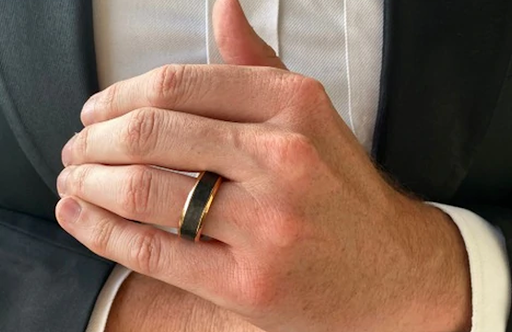 When it comes to choosing a men's wedding band, fit is one of the most important factors to consider. While standard fit wedding rings are the most common type, comfort fit is a newer option that continues to be a hot trend for men's wedding bands. Read on to learn the basics and benefits of a comfort fit men's wedding band. 
What Is Comfort Fit?
In North America, there are two kinds of ring sizing systems: standard fit and comfort fit. The latter refers to a ring with a domed interior where the metal touches the finger. With standard fits, on the other hand, the interior of the ring is flat, creating a slightly less comfortable fit in certain instances.

With comfort fit rings, the diameter at the middle of the band (between the two edges) is also smaller than the diameter at the edges of the band. All of this is designed to promote a secure, comfortable feel that more and more men covet when searching for a wedding ring.

While they can be used with any ring type, comfort rings are most commonly used in bands that are difficult to resize, such as ceramic, titanium, tungsten and cobalt chrome. Whatever the case, a comfort fit allows the band to easily slide over the knuckle while creating less friction because it covers a smaller surface area of skin.
How to Determine Comfort Fit Size
An effective way to determine your comfort fit size is to find out your standard fit size at a local jeweler such as John Atencio. Once you have that measurement, you will generally want to order a half-size smaller. For instance, if your standard fit size is 9.0, you will usually need a comfort fit size of 8.5. Bear in mind, however, that this is more of a general recommendation and not necessarily a hard and fast rule.

For bands wider than 8mm, it's generally not a good idea to go down half a size because bands wider than 8mm tend to fit tighter. Bear in mind also that ring sizes can be similar to shoe sizes in that they differ slightly based on the manufacturer.

With all that said, if you are sized with a special comfort fit sizer, you won't need to go down a half size. John Atencio uses comfort fit sizers to provide accurate sizing for his comfort fit rings.
Standard Fit
As previously stated, standard fit refers to a kind of fitting where the ring is flat along the interior where it touches the skin. The best way to visualize this is to compare the inside of the ring to the inside of a pipe, where the diameter is consistent from one edge to the other.

Standard fits are most commonly used in precious metal rings such as white gold, palladium and platinum. Although it can be slightly less comfortable compared to a comfort fit, standard fits aren't necessarily "uncomfortable." It all depends on the person wearing the ring. That said, it's safe to say that most men prefer comfort fit rings over standard fit designs.
Determining Your Standard Fit Ring Size
Choosing the correct size is a critical step in the wedding ring buying process. An improperly sized band can be uncomfortable, loose and, in certain instances, difficult to resize. If you spend a little time on the internet, you will find all sorts of tips and "hacks" that can help you estimate ring size. The best way to get a perfectly accurate measurement, however, is to visit your local John Atencio store, where our knowledgeable jewelry experts can determine the right size for your wedding bands. While you're there, you can view John's impressive collection of uniquely handsome men's wedding ring designs.

A legend in jewelry design, John Atencio blends artistry and innovation to create truly compelling men's wedding bands. What's more, as part of the John Atencio Summer 2022 Collection, all men's bands will be comfort fit. Select from an incredible range of materials, metals and precious gemstones to create a look that fits your personality and lifestyle.

John's team will make sure your band fits perfectly, whether you're shopping online or at one of our convenient store locations. Whenever customers order a men's comfort fit band online, we send sizers before their orders are placed. Or, if you prefer, you can simply make an appointment at one of our stores to meet with our attentive, knowledgeable team.

Searching for a distinctive men's wedding band that fits comfortably? Visit any nearby John Atencio location, and our experts can help you find a trendy, sophisticated ring that perfectly matches your style. Let our courteous team show you how to select a stylish comfort fit wedding band with an attractive inlay to honor your walk down the aisle.